Literally half a lifetime ago, I read a great essay in either Car & Driver, or Road & Track (I used to subscribe to both) about alcohol-impaired driving. It was a thoughtful, honest appraisal developed with real world field testing.
Different people react differently to consumption of beer, wine and liquor. Some at .08 had distinct reduction in driving competence. Others could out-drive them at double that.
If you have spent any time around such people, YOU KNOW THAT.
But the assumption of prohibitionist legislators is that drink is BAD… any and all. The only limit to what rules they can lay on drinkers is what the legislatures can get away with… almost no limits at all in Utah.
In the honest study, as with so many other aspects of civilized culture, OBSERVED BEHAVIOR is the relevant issue. Arbitrary, conjured-up rules do not fit a world made up of unique individuals… unless you are trying to come up with ways to control the masses… or are a simpleton with power.
Speaking of which:
Theocracy Advances in Utah… And Soon Near You, Too
In this Feb. 23, 2017, file photo, Rep. Norm Thurston, R-Provo, looks on as he stands on he floor of the Utah House of Representatives at the Utah State Capitol, in Salt Lake City. Utah's hospitality industry is urging Gov. Gary Herbert to veto a bill giving Utah the strictest DUI threshold in the country, lowering the blood alcohol limit to .05 percent, down from .08 percent. Thurston, says he doesn't think it will hurt tourism but it would make people think twice about drinking and driving. (AP Photo/Rick Bowmer, File)">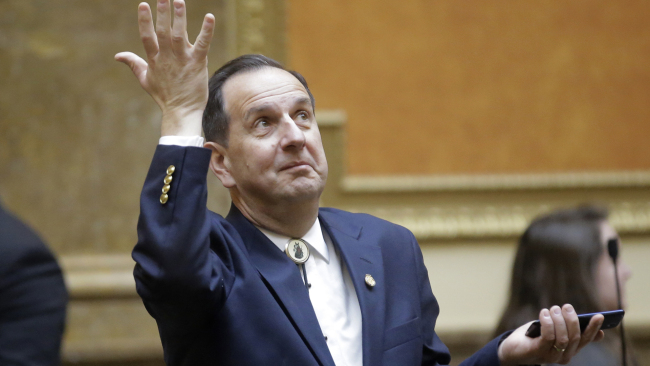 FILE – In this Feb. 23, 2017, file photo, Rep. Norm Thurston, R-Provo, looks on as he stands on he floor of the Utah House of Representatives at the Utah State Capitol, in Salt Lake City. Utah's hospitality industry is urging Gov. Gary Herbert to veto a bill giving Utah the strictest DUI threshold in the country, lowering the blood alcohol limit to .05 percent, down from .08 percent. Thurston, says he doesn't think it will hurt tourism but it would make people think twice about drinking and driving. (AP Photo/Rick Bowmer, File)