Poll: Americans' Satisfaction With Government
Sinks to All-Time Low

Only 18% satisfied with the way the nation is being run
Adan Salazar
Prison Planet.com
Oct. 10, 2013

Numbers from the latest Gallup poll reveal Americans' confidence in the two-party dominated system has hit an all-time low, with only 18 percent saying they're satisfied with the way the nation is being run.
"This is the lowest government satisfaction rating in Gallup's history of asking the question dating back to 1971," admitted the polling agency.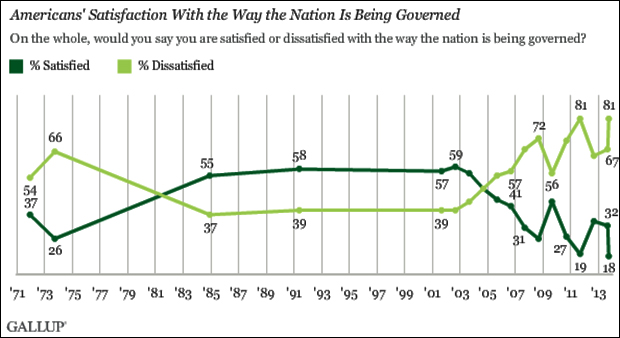 The ramifications of the government shutdown being felt at national monuments and parks across the nation, along with nonstop coverage of the political theater on Capitol Hill over raising the national debt limit, are likely large contributing factors to the public's dissatisfaction.
Of course, the fact that a new healthcare law was recently implemented requiring every American obtain health insurance or pay a substantial penalty can't help.
Taxes for not having health insurance start at $95 for an individual in 2014, or 1 percent of household income, whichever is higher. That figure is expected to quickly rise to $695 annually by 2016, or 2.5 percent of household income.
Frustrations over the novel federal extortion tactic are only exacerbated by an online health insurance marketplace that has less than a 10% success rate.
The last time public sentiment sank this low, according to Gallup, was in Sept. 2011 when lawmakers voted to raise the debt ceiling at the last-minute narrowly avoiding default.
"Prior to 2011, the lowest level of satisfaction with the way the nation is being governed was 26% recorded in September 1973 — in the middle of the Watergate scandal," reported Gallup.
However, the public's perception of the government's ability to run things has been at a steady decline since 2004, Gallup notes.
Additional highlights from the poll include:
• a whopping 81 percent of Americans say they're dissatisfied with the way they're being governed
• an additional poll measuring satisfaction by political party found favor for both parties dropped – within a month, Republicans went from 11% to 8% and Democrats dropped from 54% to 28%
As we highlighted earlier this week, a recent AP poll showed Americans place equal blame for the shutdown on Republicans, Democrats and the President, despite the AP running a misleading headline that read "Poll: GOP Gets the Blame In Shutdown."
It is possible the government's dwindling popularity is due to Americans overall waking up and smelling the government corruption, a trend that could be linked to the rise of independent media and sites like the Drudge Report and Infowars.com making it increasingly difficulty to control the flow of information.